Tips to get more discount on Moto X4 and save money:
We can save money and avail more discount while purchasing Moto X4, in 2 ways – By exchanging old smartphone and by purchasing online with No-Cost EMI option.  
As Moto X4 is a Flipkart exclusive product, we can buy it on Flipkart only. So we can't expect offline retailer's own discount on this product, so the only way to save money is:
Tip 1: Exchange your old smartphone – Flipkart is offering a maximum discount of up to Rs.18,000/- which is based on condition of your old smartphone. As most of the times, we sell or do not use our old smartphone after purchasing a new one so it makes sense to exchange on Flipkart while purchasing new Moto X4. This will save good amount and you'll get good valuation for your old phone. See more details about exchange offer details mentioned below in one of the tabs.
 Tip 2: Buy Moto X4 at No-Cost EMI – Flipkart is offering No-Cost EMI option on Moto X4 for max. 12 month's tenure. So you do not need to pay full amount on one go and can pay in small instalments.You can put Rs. 24K in fixed deposit or bank account for 12 months and can earn some interest on that which will be extra discount in a way. See more details in below "No-Cost EMI Tab".
8.5 Total Score
Overall a great smartphone in this price range with premium look and feel !!!
Moto X4 is the latest smartphone in the X series by Motorola. It's value for money smartphone which offers a lot in affordable pricing. Design and Display of this Moto X4 is very good and gives a premium look and feel when you hold in hand. Metal and glass finish gives it a fresh look and it stands out of the crowd from Samsung and other popular mobiles. Moto X4 comes out of the box with the latest Android Oreo which is the latest android OS. We can also expand it's memory upto 2 TB which is a good support by this smartphone. After using this smartphone for quite some time, please see below our ratings and list of PROs/CONs of the Moto X4.
Quick Battery Charging with Turbo Boost
9
PROS
Moto X4 comes in 3 variants:
3 GB RAM | 32 GB ROM
4 GB RAM | 64 GB ROM
6 GB RAM | 64 GB ROM
Memory is expandable up to 2 TB (Tera Byte)
12 MP + 8 MP dual rear camera
Upgradable to Android - 8.0 Oreo
Water-resistant
CONS
3000 mAh Battery - It should be more in this price range.
Non-removable battery.
Too Slippery and prone to finger prints easily.
Add your review
|
Read reviews and comments
To get more discount on Moto X4, buy at No-Cost EMI and pay in equal monthly instalments.
No-Cost EMI offer of Flipkart is available only on Moto X4 6 GB RAM version which comes at a cost of Rs.24,999/-. EMI option is available on other versions as well but it comes with 12% – 15% interest whereas EMI on the high end Moto X4 does not comes with extra interest rate.
You can buy Moto X4 6 GB version on N0-Cost EMI starting at just Rs.2,084/- per month for max. 12 month's payment tenure.
How it works? Just choose No-Cost EMI option on the payment page using your credit card or Bajaj Finance loan card in case you do not have or do not wish to use your credit card.
See below image to understand how it actually works?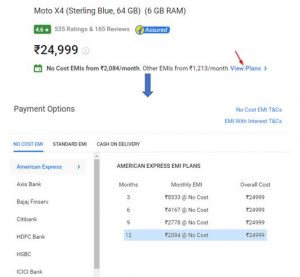 Go and check full details of this No-Cost offer for Moto X4 Plus Now.
Also See: No-Cost EMI Offers for other products
You can save Up to Rs.18,000/- with exchange offer on this smartphone. 
Exchange discount or exchange value of your old smartphone depends on the model and it's condition. So it varies for different smartphones. At Flipkart you can get to know exchange value instantly by putting smartphone brand and model name. The exchange discount varies from Rs.2,000 to max. Rs.18,000/-.
Go and Check exchange value of your old/current smartphone.
How Exchange of your old smartphone will work at Flipkart?
Step 1: Share information about your old phone – you need to tell about IMEI number and it's current condition. Exchange offer is available for selected mobiles only.
Step 2: Check pin code availability. The offer is not available everywhere so we should check availability on our pin code. We should place exchange order only if it's available at our location as we need to handover the old phone to Flipkart pick-up person.
Step 3: Hand over old phone – once the new Moto X4 is shipped to you, Flipkart pick-up team members will contact you to take your old phone at your delivery address. 
Go and Check Now the full details of exchange offer for Moto X4.
Buy most suitable Moto X4 Accessories which will enhance it's usability and protection. See few most popular accessories for this smartphone –
Moto X4 (Super Black, 64 GB)(4 GB RAM), Motorola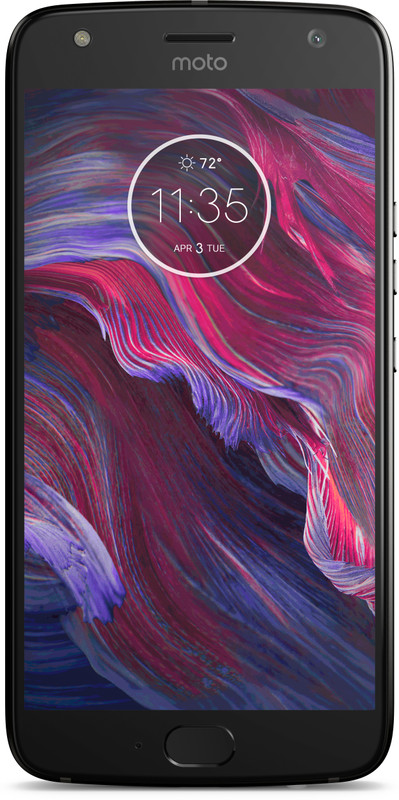 Price History
Statistics
| | | |
| --- | --- | --- |
| Current Price | Rs. 22,999 | February 16, 2018 |
| Highest Price | Rs. 22,999 | February 8, 2018 |
| Lowest Price | Rs. 22,999 | February 8, 2018 |
Since February 8, 2018
Last price changes
| | |
| --- | --- |
| Rs. 22,999 | February 8, 2018 |
Moto X4 (Sterling Blue, 64 GB)(6 GB RAM), Motorola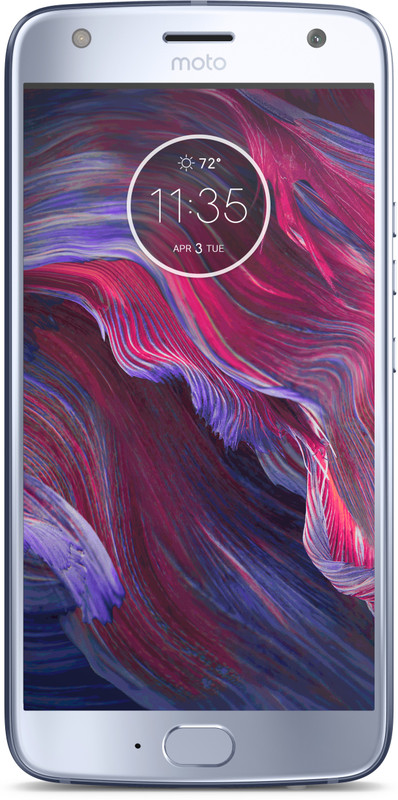 Price History
Statistics
| | | |
| --- | --- | --- |
| Current Price | Rs. 24,999 | February 16, 2018 |
| Highest Price | Rs. 24,999 | February 8, 2018 |
| Lowest Price | Rs. 24,999 | February 8, 2018 |
Since February 8, 2018
Last price changes
| | |
| --- | --- |
| Rs. 24,999 | February 8, 2018 |
Moto X4 (Super Black, 32 GB)(3 GB RAM), Motorola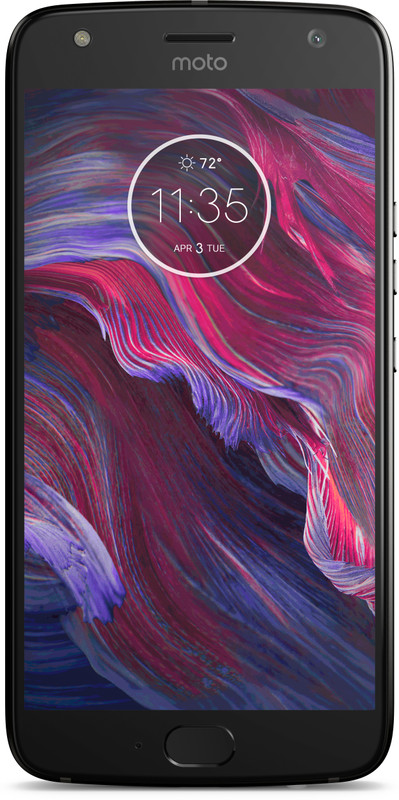 Price History
Statistics
| | | |
| --- | --- | --- |
| Current Price | Rs. 20,999 | February 16, 2018 |
| Highest Price | Rs. 20,999 | February 8, 2018 |
| Lowest Price | Rs. 20,999 | February 8, 2018 |
Since February 8, 2018
Last price changes
| | |
| --- | --- |
| Rs. 20,999 | February 8, 2018 |